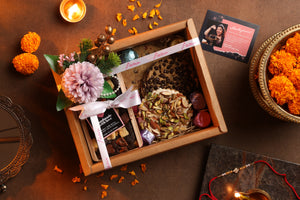 Looking for something special and absolutely yummy to gift your loved one? Order this box and we promise you won't be disappointed.

This contains
1 Tea Cake Loaf (Eggless)
1 White Chocolate and Roasted Almond & Pistachio Cookie (Eggless)
1 Chocolate Chip overload Cookie (Eggless)
1 Nutella Love Cookie (Eggless)
6 Assorted chocolates (Eggless)

This is packed in a Paper Tray Box ( 10 inch * 8 inch ) and decorated with artificial flowers and an acrylic lid.

All the contents are seal packed and arranged in the tray.
Also, Incase you need any of our other products as a gift box in a hamper, feel free to reach out to us.