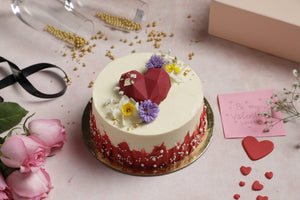 This is not a cake but an experience, filled with Nutella and Ferrero inside and Nutella Filled Chocolate on the top. This is a very dense and moist cake, absolutely smooth and yummy. This cake is best if you are Nutella lover, you love Chocolate and you love your Valentine too.
Please note that the flowers are seasonal, therefore the flowers on the cake will be as per availability. They may or may not be real, depending on the season.
Note: Since Deliveries are done on two wheelers, sometimes Cream Cake frostings tend to spill , we request you to kindly understand such extreme situations if any.