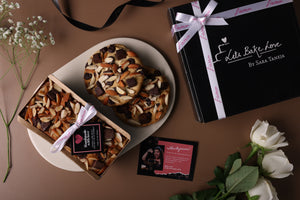 Oh i've worked a lot on these because well i always said that if you want all this water and ice is what i can serve. You won't even know that they are Gluten free and refined sugar free. Get ready for a healthy binge. Best paired with coffee or Tea!
Contains almond flour, gluten free flour blend and a plant based sweetner
1 Gluten Free & Refined Sugar Free Tea Cake with Dark chocolate Chunks and Roasted Almonds
2 Gluten Free & Refined Sugar Free Vanilla Dark Chocolate Cookies
Warning: Bitter because of 70% and 55% Dark Chocolate Chunks.
Any Questions, feel free to reach us at +91-9899156575.