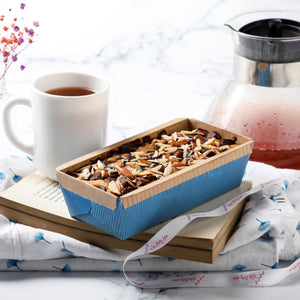 100% gluten free and refined sugar free tea cake with roasted almonds and 70% and 55% dark chocolate chunks. Guiltfree binge
Contains almond flour, gluten free flour blend and a plant based sweetner.
Contains Egg. 
Approx weight 350gm
Pro Tip:
For Tea Cakes, Brownies, Blondies and Cake Jars: PLEASE PLEASE PLEASE store them in the fridge and in an airtight container even after opening it, and just heat it 30-40 seconds before eating it. Also, incase you are a fan of moist tea cakes like us, just sprinkle some water before heating.